Highlights of the students of the fourth Erasmus+ Mobility at the school Beylikdüzü Borsa İstanbul Ortaokulu in Istanbul, Turkey
Merhaba and Hello!
Our fourth students' Erasmus+ Mobility in our project Be A.C.T.I.V.E., Be Happy! (Project Number: 2020-1-DE03-KA229-077137-2) took place from 20th to 26th November, 2022. After being in Croatia, Sweden and Germany, four GSS-students went to the school Beylikdüzü Borsa İstanbul Ortaokulu in Istanbul, Turkey. All students intensified their friendships, improved their English language and cultural skills as well as their physical fitness in team sport. Our project's main goal was Exercise this time, so our main activity was a volleyball tournament. Mrs Tenge-Rietberg and Mr Cinar accompanied the students. Below, you can read about the students' experiences day by day.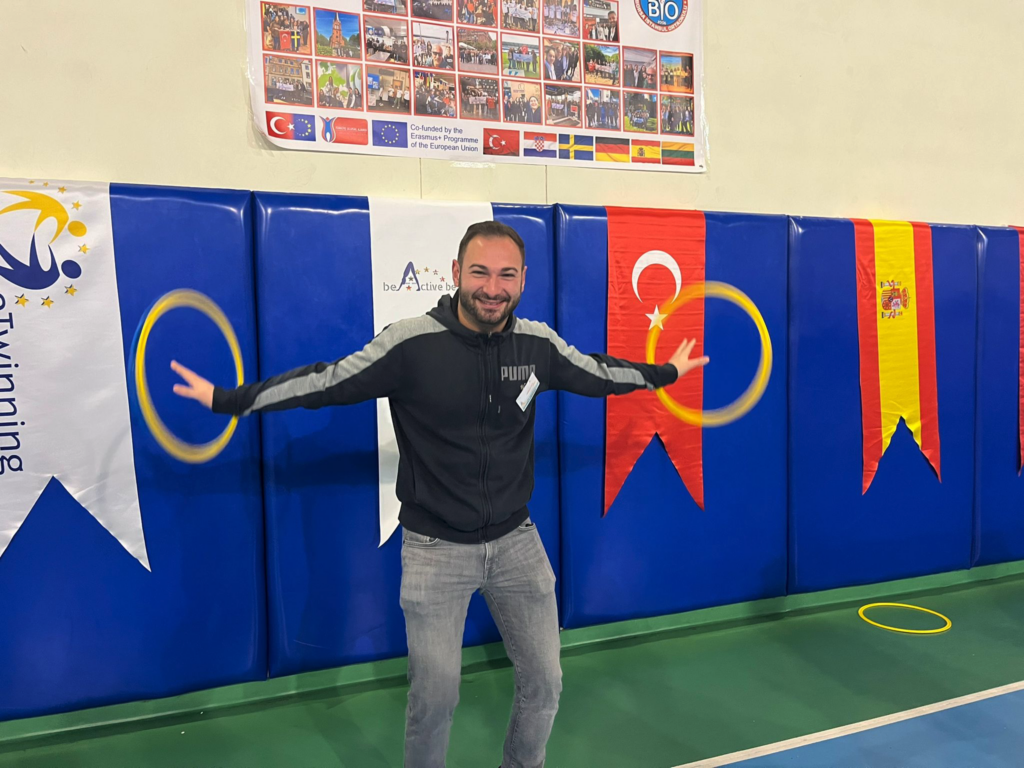 Monday, 21st Novemer, 2022
Sara Jovanova (9a)
On Monday, the 21st of November, 2022, we all met at the school. The school is very nice and the people are very friendly. Please check out the website for details.
In the school auditorium, we played a game together. There was an official welcoming ceremony. Then, we played games to introduce ourselves. In English these activities are known as "ice breakers".
We all got to know each other better after the game; our names, hobbies and fun-facts.  We also had lunch at the school and this was the best part of the day because we all sat together and ate a lot of different food from Türkiye. It was delicious and spicy. Later, we made teams and played games in the the gym. Each team was made up of students from each country, even the teachers took part and it was fun!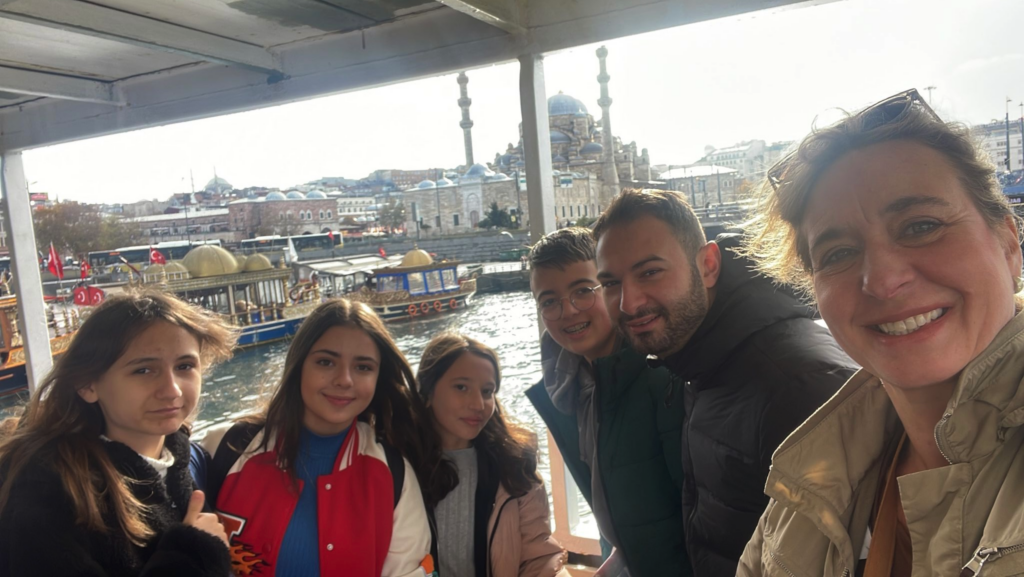 Tuesday, 22nd November, 2022
Iulian-Leonte Grigoras (8a)
I want to tell you about the trip to Istanbul and our boat trip near the world famous Bosperus Bridge. It connects  the end of Europe with the beginning of Asia.
In the morning, we took the bus from our neighborhood in Istanbul to the old city center. It took about one hour because there is so much traffic in the city. There are 15 million people living in Istanbul. The bus drove all along to the coast and it was nice but a bit rainy. Later, we cruised with the boat and looked at popular historical sights. After our boat trip, we explored the old town and went to the Spice Bazar. There were so many different and wonderful things to see! After that we had free time to discover the area on our own. Finally, we had a picnic lunch at a nice park. The weather was great and we sat outside. There were many stray cats in the park. They were so sweet.
For me, I liked the boat tour best because of the great sights and I could feed seagulls from the boat. It was awesome.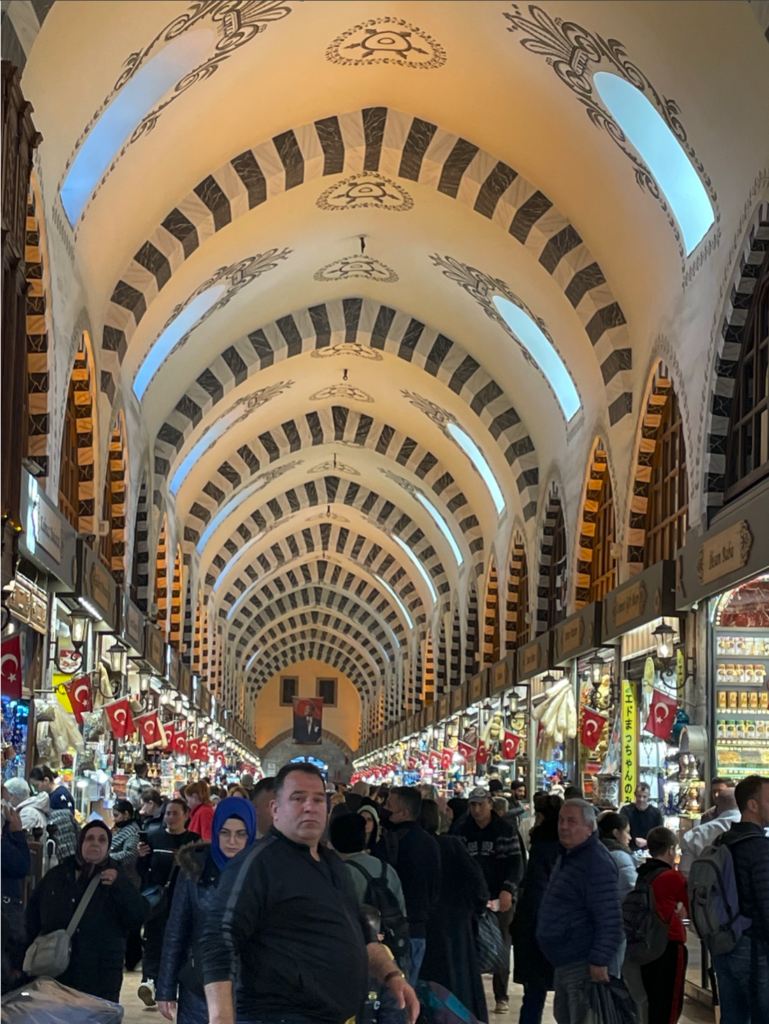 Wednesday, 23rd November, 2022
Lijana Mustafaj (6a)
On Wednesday, we met at the school and had a volleyball tournament in the gym. As a warm-up, we could play basketball or volleyball. When the games were over, we had a pizza party at school with the teachers. We played in four different teams, so we all had to speak English to each other.
For me, the volleyball match was the best because I like sports and being active!
After school, we had free time with our families and went shopping. Shopping in Türkiye is amazing.


Thursday, 24th November, 2022
Selina Pankoke (8d)
On Thursday, we first met at the school and waited for everyone to arrive. After that, when we all were there, we got into the bus and made our way to the old town. After looking around we went to a mosque. It was very beautiful with all the gold! When we got out of the mosque we walked to the grand bazaar, where we got free time to shop. It smelled so nice there because of all the spices and teas.
The bazaar was my personal favourite because of all those little "shops" with small things that I've never seen before.
The mosque is very famous as it was a Christian Bysantne Orthodox Church once. It is called the Hagia Sophia. Learn more about it when by looking it up here!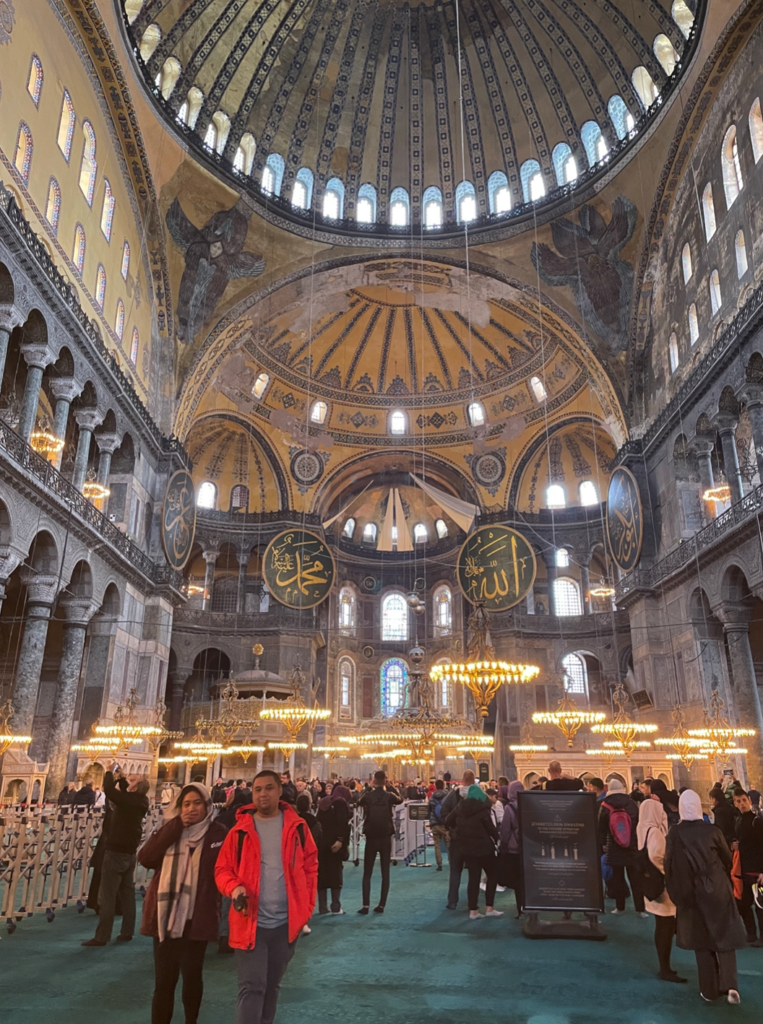 Friday, 25th November, 2022
These are the highlights of the students:
Lijana: Talking to my new friends, e. g. in a café.
Iulian-Leonte: The nice people from other countries.
Selina: Free time and spending time with new friends from different countries.
Sara:  Free time with my international friends because we did nice things together.
After these fantastic experiences we are looking forward to meet each other again in Spain in March 2023.
Güle güle! Goodbye!
Yours,
Sara Jovanova (9a)
Iulian-Leonte Grigoras (8a)
Lijana Mustafaj (6a)
Selina Pankoke (8d)
Mrs Tenge-Rietberg (teacher at GSS)
Mr Cinar (teacher at GSS)
Co-author:
Mrs Ludger (teacher at GSS)